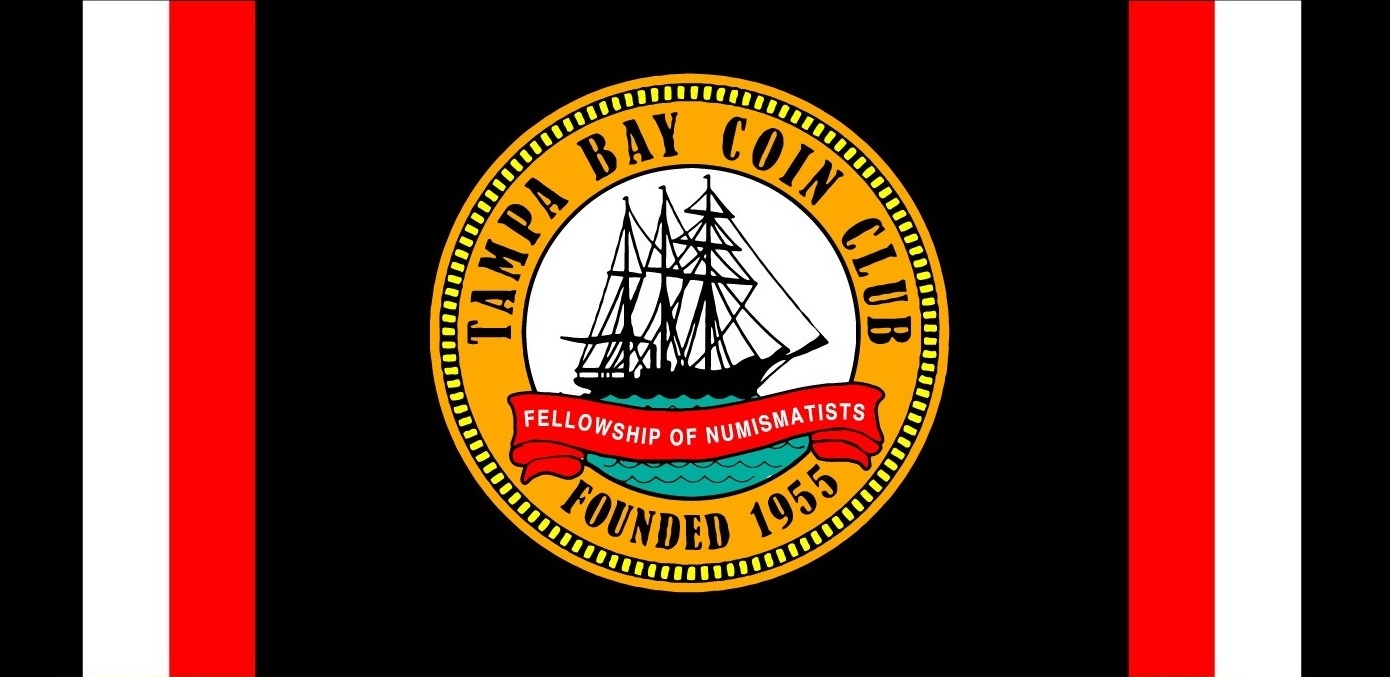 TBCC AUGUST 2019 GENERAL MEETING MINUTES
August 13, 2019 @ Northdale Community Center                                                                   
Attendance:  The August meeting had sixty-six (66) members in attendance.
                     Also in attendance were eight (8) guests.
6:30PM           Doors Open.
7:00PM          Tampa Bay Coin Club meeting commenced with the Pledge of Allegiance. President Steve Tercyak opened the meeting.
Secretary Report:  Dennis Misiak read the minutes of the June 2019 meeting.
Treasurer Report:  The Treasurer provided an overview of the financial health of the Tampa Bay Coin Club.
.
7:10PM           General Discussion
The members who had a birthday in July received a Brilliant Uncirculated 1955-D Roosevelt dime (1955 was the year which TBCC was founded). Five (5) members received a coin.
Medal Program Update: Forty (40) of the 2019 Florida Keys Overseas Railroad medals remain available for sale. They will be available for purchase by TBCC members at the Monthly General Meeting. Cost is $16.00 per medal.
Grading Seminar: An Extra Grading Session will be held on September 17th. Skip Fazzari (ICG) will conduct the class. Participants are encouraged to take advantage of this additional opportunity.
Richard Arecas tested video recording of the July meeting. This will be uploaded to the TBCC website for review.
7:15PM           50-50 Raffle:  Proceeds of $150 were collected. Alan Lebeda was the winner of $75.00.  
            Monthly Attendance Drawing: Pat Apel was the winner of the Silver American Eagle in the drawing.
TBCC AUGUST 2019 GENERAL MEETING MINUTES (Cont'd)
7:20PM-          Educational Presentation:  Mark Trout gave a presentation entitle            d
7:45PM            "Where The Buffalos Roam". This comprehensive presentation provided member with a chronology of the American Buffalo (Bison) as it appears on various denominations of U.S. coinage, from the Nickel through the Commemorative Silver Dollar.
7:45PM-          Meeting Break
7:55PM –        TBCC Monthly Auction
8:45PM
8:50PM           TBCC Monthly Silver Raffle
9:00PM           Meeting Adjourned